About Us
WHY MATERNITY CLOTHES?
Most importantly, for your own peace of mind! You will be uncomfortable in a thousand ways during pregnancy. At least your pregnant apparel should make you feel at peace.
During the first trimester of your pregnancy, you will have regular morning sickness and nausea. There will be some indigestion too. In that case, it is better to avoid tight trousers or dresses that are tight around the waist, which will make your unsettled stomach wrestle even more.
Many women complain about feeling hot during pregnancy. Your hormones are on a roller coaster ride so you will be sweat and feel exasperated with heat. So wearing clothes that are too tight or of a material that makes you feel hotter will only aggravate the situation. With MomToBe Maternity clothes you can avoid this and keep feeling wow!
You will eventually start putting on weight from the second trimester. To accommodate your expanding figure, you need the best maternity clothes that will clothe you till the end of your third trimester.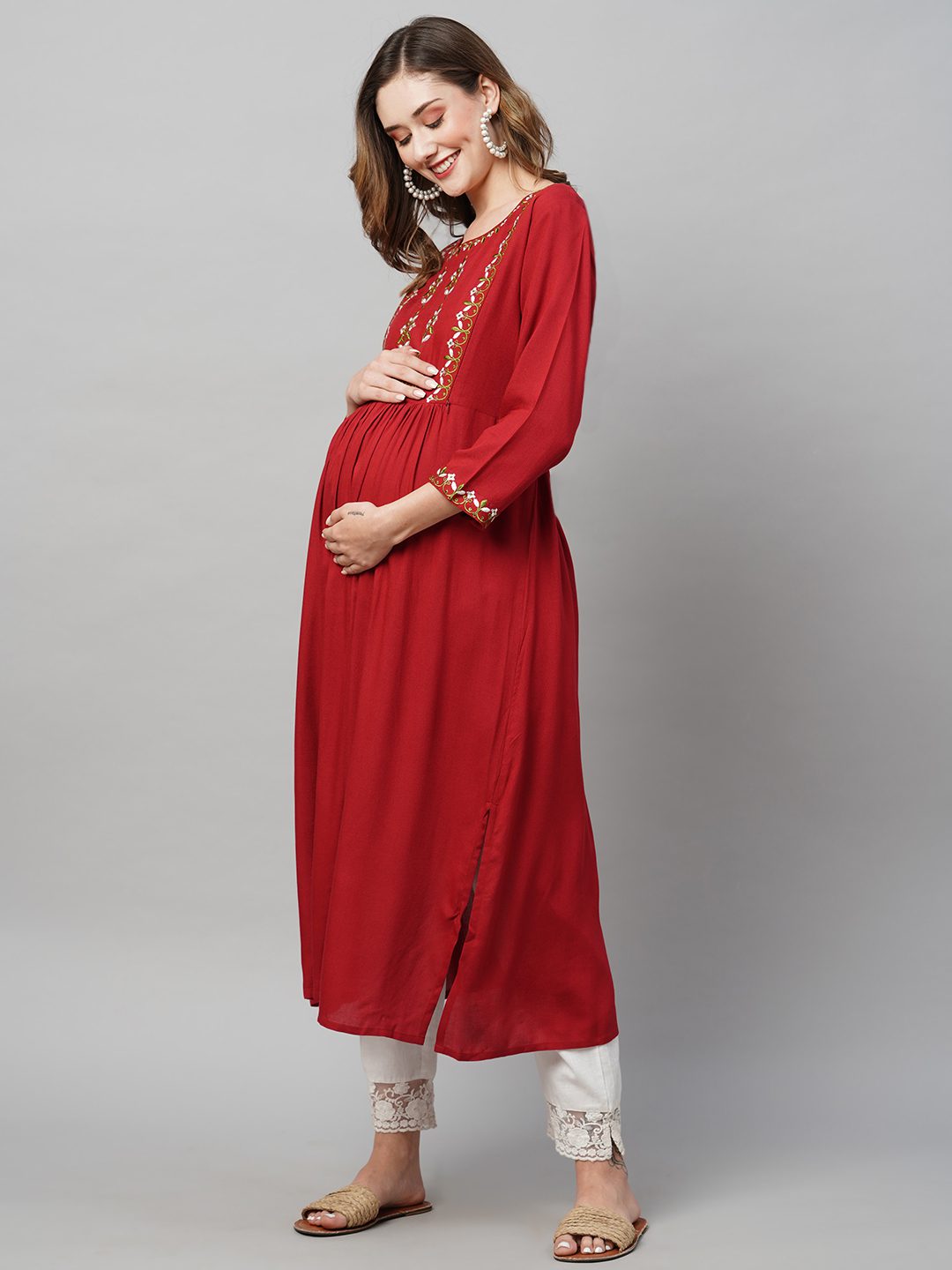 MomToBe is India's bestselling and most fashionable Maternity and Nursing wear fashion label. At MomToBe, we have a family of experts who have dedicated themselves to ensure you look and feel your best throughout pregnancy and during Nursing.
We welcome you to indulge in the world where fashion meets motherhood. Designed specifically with you, the modern mother in mind, we provide looks that are stylish, trendy but most of all affordable.
Fabric:
Fall in love with our range of carefully chosen pregnancy and skin-friendly fabric.
Our fabric comes with a guarantee, it would not wear off or fade out with regular usage and hence making it worth every penny you spend.
Plenty of Room For growing belly:
MomToBe maternity wear is designed keeping your growing belly in mind, our garments are made from breathable and stretchable fabrics to adapt to your changing curves and most of our garments come with innovative feeding options, making it usable for at least up to 12 months post-pregnancy as well.
Try and Buy:
We understand your busy routine and travelling hazards, to make it easy for you, we offer doorstep Try and Buy option* across Mumbai at a minimal cost, of course refundable against a minimum purchase. Call us on 7045647870 or Email us on Orders@momtobe.in to book an appointment.
Easy Returns / Exchanges:
We offer a 15 days Return/Exchange period. For any reason, if you wish to return or exchange the products you buy, we provide a hassle-free return/exchange experience. Refer to our Terms and Conditions for more details.
Widest Collection:
Your maternity wear hunt ends just here. With over 500 different maternity wear to choose from and fresh collections launched every month, style your bump with latest and most fashionable maternity wear designed by experts.
Easy Nursing Access:
We understand that sometimes the nursing experience can be uncomfortable in the company of others. Lifting your clothes to breastfeed along with managing the baby can be cumbersome. We offer innovative nursing wear with easy lift up or concealed nursing access so you can style yourself with confidence!